ENSEMBLE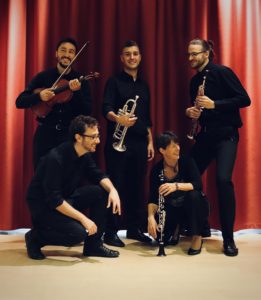 MotoContrario is therefore an ensemble with several lineups, open to plural contributions, which lead him to face repertoires ranging from the duo to the large ensemble. This flexible organic has allowed MotoContrario to take care of performances (world and italian premieres) of works by composers coming from all over the world.
In addition to authors from the early and late twentieth centuries, the ensemble presented and commissioned works, including premieres, by contemporary composers such as Francisco Quintero, Andrea Nicoli, Nicola Straffelini, Fabio Cifariello Ciardi, Karlheinz Essl, Massimo Biasioni, Fausto Sebastiani, Antonio Agostini, Giorgio Colombo Taccani, José Sanchez-Verdù etc.
The ensemble has also turned its attention to authors of the young generations, performing pieces by composers who are successfully appearing on the national and international scene, such as Victor Ibarra, Maurizio Azzan, Pedro Alvarez, Simone Cardini, Adrian Mocanu, Giovanni Santini, Hilda Paredes, Daniel Tacke, Simone Movio, Lorenzo Troiani, Mirtru Escalona, ​​Alexander Kubeev etc.
The ensemble was among the winners of the "Open – Contemporary Creation 2014" competition, created as part of the 2014 edition of the Pergine Spettacolo Aperto festival. He collaborated with the Conservatory of Trento, holding seminars on contemporary instrumental techniques. He was ensemble in residence at the La Spezia Conservatory, working for workshops, seminars and concerts.
It has been invited to play in seasons such as the Cluster Festival (Lucca), Incò_ntemporanea Festival (Piacenza), Concerts at the Museo del Novecento (Milan), Il Suono Festival (Perugia), Encuentros Sonoros (Seville), Festival Polifonie (Como), La Spezia Concerts Society, Bolzano Contemporary Music Festival, Festival Sound Space (Malmö) etc.
Facebook: www.facebook.com/motocontrarioensemble