Andrea Mattevi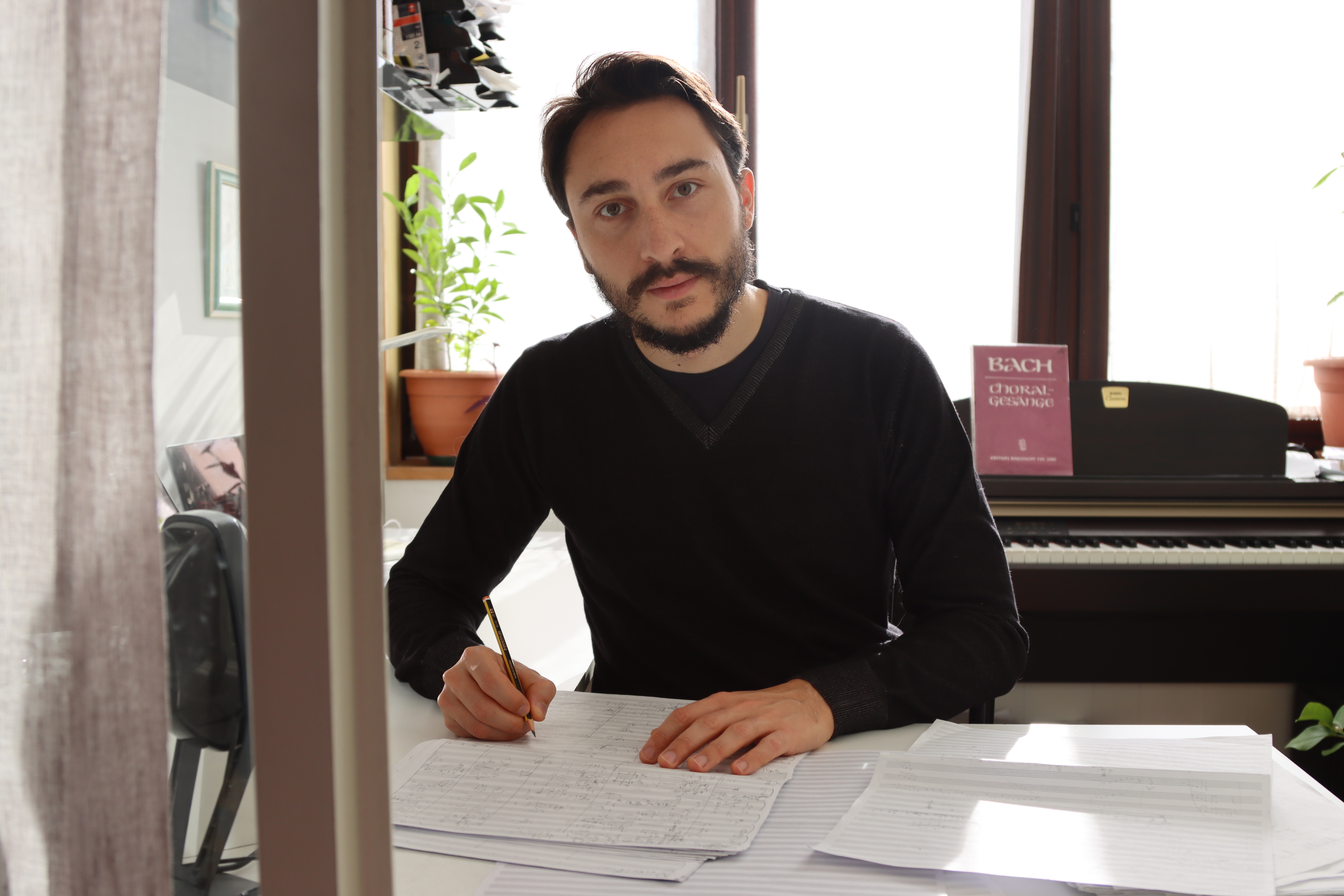 Andrea Mattevi is composer and violist. His music has been performed by Tokyo Symphony Orchestra, Basel Sinfonietta, Orchestra Haydn of Trento and Bozen, Mivos quartet, Cracovia Sinfonietta, Peter Rundel, Marco Angius, Maria Grazia Bellocchio, Ben Omar, Francesco Dillon, MDI ensemble, Alterego ensemble, Dédalo ensemble, Appassionato ensemble, Ensemble Windkraft Kapelle für Neue Musik, Interensemble, ADMSoundscape ensemble, Freon ensemble, L'arsenale, Impronta ensemble and others. He carries out an articulated artistic performance activity with the viola either as soloist and either in chamber formations (founder of the MotoContrario ensemble) and in the orchestral context, collaborating with important orchestral groups and foundations such as the RAI Orchestra of Turin, Orchestra Haydn, the Petruzzelli Theater Orchestra and many others.
COMPOSITION
His music is characterized by the emergence of different coexisting temporal layers and by a structured juxtaposition of sonorities and texture that seek an expressive brightness. He won the second prize at the Toru Takemitsu Award, first prize at the International Composition Competition "Franco Evangelisti", Royal Krakow Sinfonietta Competition, ETHE Txistu Composition Competition, he has been finalist at the Basel Composition Competition, he has been awarded and recognized in several international competition such as the Ensemble Écoute (Paris), Styrian Tone Art(Graz), "Togni" (Brescia), "Città di Udine" (Udine), Szimanowski (Katowice), Donatoni International (Milan), "Impronta" Competition (Mannheim-Budapest), "Appassionato ensemble" (Como), "V. Bucchi" (Rome), AN Artistry (Athens) and others and selected and performed in several call for scores as MDI ensemble
(Milan), Dédalo ensemble (Brescia), "Rumore Bianco" (Foggia) and other.
He has received commissions from the Haydn Orchestra Foundation (Trento and Bolzano), the Filarmonica di Rovereto, the JFutura orchestra and other. His original works have been published by various publishers as Suvini Zerboni (Milano), SconfinArte (Milano), Impronta edition (Mannheim), TEM (Udine).
He is perfected with Ivan Fedele at the Accademia Nazionale di Santa Cecilia in Rome, with Luc Brewaeys and Robin De Raff in CODARDS (Rotterdam), with Azio Corghi and Mauro Bonifacio at the Accademia Chigiana (Siena) and at the three-year diploma at the "Romanini" Foundation (Brescia) and and he followed courses with Salvatore Sciarrino, Lei Liang, Alessandro Solbiati, Stefano Gervasoni and others, VIPA (Valencia), Corsi di alto perfezionamento in Monterubbiano and at the Conservatory of Milan.
VIOLA
He has played in various festivals as a soloist and in chamber performances at CIM (Udine), Espacios Sonoros (Sevilla), Festival Cluster (Lucca), Festival Il Suono (Città di Castello), In_Contemporanea (Piacenza), Festival Contrasti (Trento), Mondi Sonori (Trento) and others and in orchestral formations such as the the RAI National Orchestra symphonic Season (Turin), Venice Biennale Music, Symphonic Season of Teatro "Petruzzelli" (Bari), Olympic Theater Season (Rome), Season of Teatro Comunale di Treviso, Due Mondi Festival (Spoleto), Audi-Mozart and others.
He perfected in viola with Simonide Braconi, Luca Ranieri, Davide Zaltron at the "Romanini" Foundation (Brescia), at the Scuola di Musica of Milan, at the Santa Cecilia Foundation (Portogruaro) and at the Accademia di alto perfezionamento della Serenissima (Sacile) and she attended violin, viola and chamber music courses with Carlo Costalbano, Pavel Berman, Ilya Grubert, Massimo Quarta, Enzo Porta, Dimitrios Polisoidis, Aldo Campagnari and Francesco Dillon (Prometeo Quartet) and others, attending courses at IMPULS (Graz), CODARTS (Rotterdam) and Italian conservatories.
He plays a Pietro Trimboli viola made in 2004.